16 Jun 2022
In Orbit feedback
In Orbit program and audience feedback.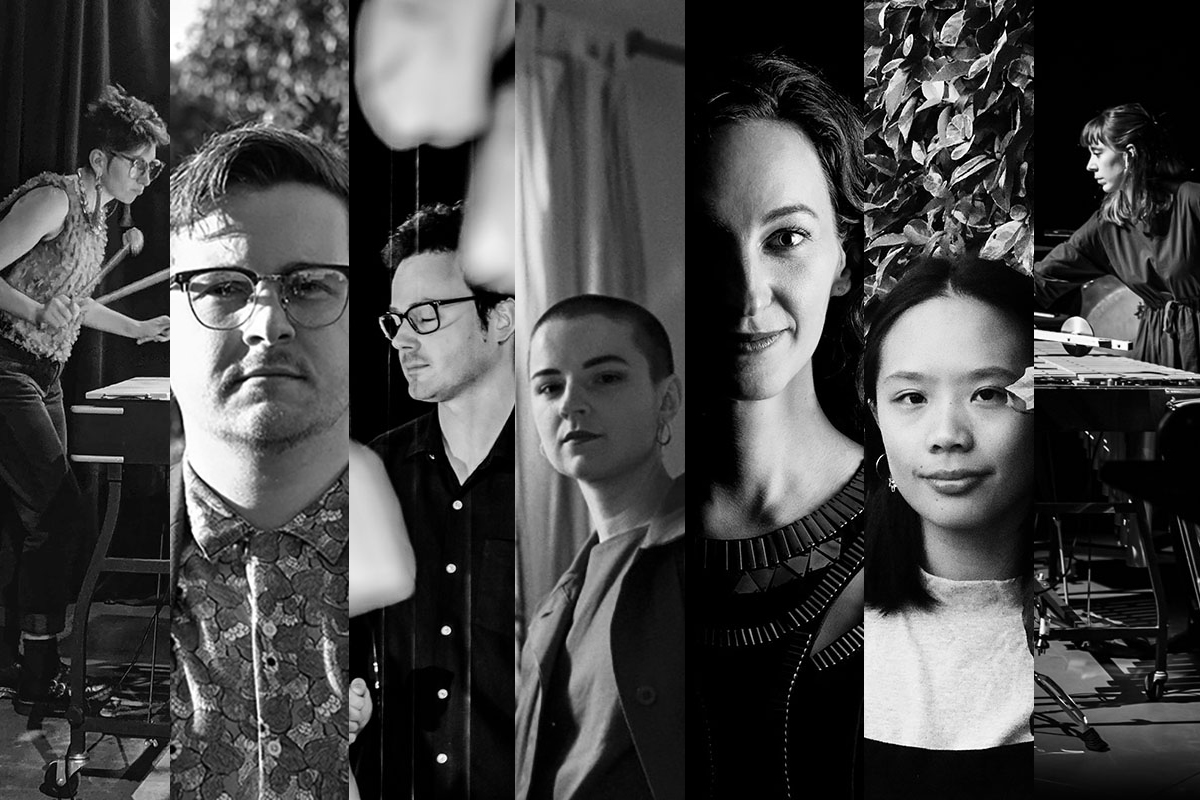 Navigating Distance and Closeness 
by Hamish Upton & Niki Johnson
Navigating Distance and Closeness is a musical work featuring textured ceramic vessel instruments made by Niki Johnson, and bamboo guiro instruments made by Hamish Upton. Through spatialisation of instrument set ups, and an accompanying electronic track, the work explores the similarities and differences of the bamboo and ceramic instruments, and the gesture required to sound them.
This work is composed and performed by Hamish Upton and Niki Johnson, and was born out of their long distance artistic collaboration as part of Speak Percussion's Bespoke program. Upton and Johnson's collaborative process examines the possibilities of communication and connection despite physical separation, in both the process of working with a remote collaborator, and as a key feature of composition and performance.
The work features multiple setups with custom built stands made by Upton and Johnson.
Additional notes on the three movements link here.
Oscillations
by James McLean, Kaylie Melville & Kezia Yap
Oscillations is a drum kit duet exploring concepts of cycles and orbits, using patterns of bodily movement to generate sonic material. The piece draws on drummer James McLean's research into how embodied cognition – the idea that our mind does not simply control our body, but that body and mind are fundamentally and intrinsically entwined – can be applied to the solo drumset to create new repertoire. In Oscillations these ideas are expanded for two players, who swing between fiercely focused unison and duelling cyclic structures.
Featuring James McLean (drum kit), Kaylie Melville (percussion), and Kezia Yap (music direction), Oscillations explores push and pull as the musicians orbit between their contrasting sound worlds.
Dissipative Structures
The vortex is very close to being a living thing. It is known as a 'dissipative structure', a class including any self-regulating organism (for example a tree, bird, or person) where energy is drawn in, structurally organised, and released at the other end. – Cameron Robbins, 2006.
A septet of percussion and electronics surround the audience with a sonic vortex to immerse them within the stunning visuals of Cameron Robbin's 2012 moving image work, Dissipative Structures. This re-imagined soundtrack for live performance draws on inspiration from Robbin's original work, including the natural phenomena of organised chaos and the coexistence of change and stability as reflected through the vortex.
We would like to thank Cameron Robbins for his kindness and generosity in allowing us to develop this new composition alongside Dissipative Structures and include his original moving image work within our performance.
We would also like to thank Creative Victoria and the City of Melbourne for their support which made the development of this project possible.
Link to quote source here.
Navigating Distance and Closen
---
Bespoke Artists (2020-22)
Hamish Upton website link
James McLean website link
Kaylie Melville website link
Kezia Yap website link
Lauren Squire website link
Niki Johnson website link
Zela Papageorgiou website link
Gabriel Fischer