Fluorophone
Damien Ricketson – Rendition Clinic
Eugene Ughetti – Pyrite Gland
Simon Løffler – b
Juliana Hodkinson – Lightness
Simon Løffler – e
About
Fluorophone creates a kaleidoscopic sound world in which the central instruments radiate, shimmer and glow. Analogue and digital fluorescent lights, the naked flame, strobe lights and DMX controlled LEDs are combined with percussion to create a trio program in which the music and lighting design are one and the same.
Fluorophone moves between noise, theatrical music and virtuosic instrumentalism, in a synesthetic display of light and sound. Featuring specially commissioned works by Australian and International composers.
List of works
Damien Ricketson – Rendition Clinic
Eugene Ughetti – Pyrite Gland
Simon Løffler – b
Juliana Hodkinson – Lightness
Simon Løffler – e
Past Performances
19 July 2019
- 20 July 2019
14 March 2017
- 15 March 2017
22 November 2016
- 25 November 2016
20 November 2016
- 22 November 2017
23 October 2015
- 16 November 2015
Artists
Composer - Lightness
Juliana Hodkinson
Composer - b & e
Simon Løffler
Composer - Rendition Clinic
Damien Ricketson
Composer - Pyrite Gland
Eugene Ughetti
Performer
Louise Devenish
Performer
Kaylie Melville
Tilman Robinson
Sound Engineer
Producer
Michaela Coventry
SUPPORTERS
Fluorophone would not have been possible without the support of the following people and organisations.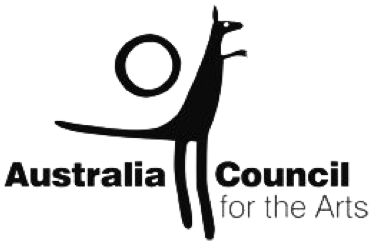 Australian Council for the Arts

Creative Victoria

City of Melbourne