Scream Star
Latest major work by Speak Percussion to premiere at Arts House, Melbourne, 18 – 21 August 2022.
A triptych featuring leading compositional voices in the experimental and conceptual music world, responding to all-too-familiar tropes of the live music and visuals format.
Speak Percussion has commissioned three world renowned composers, Johannes Kreidler, Jessie Marino and Matthew Shlomowitz for a daring new music performance project interrogating the relationship between the screen and stage.
Brought together for their unique compositional voices and strong track record of integrating screen-based media in live performance, Scream Star marks the first collaboration between these leading lights in experimental and contemporary classical music.
Performers on screen and archival footage clash with a live percussion performance in a series of screen-performance works by prominent internationally lauded composers, video artists and filmmakers. Drawing inspiration from archival Australian TV, lo-fi video techniques, concert etiquette, shadow puppetry and foley artistry.
Hey Hey It's Tuesday
Matthew Shlomowitz and Laura Spark 
"Welcome to Hey Hey It's Tuesday, an imaginary variety show. There is no host but a trio of live percussionists who will accompany you through the screening. The montage of acts includes the young and the old, amateur and professional, intentional and unintentional, human and blowhole. Speak Percussion, Hey Hey's very own house band, intermingle with the vaudeville acts to heighten and disrupt. While the sense of 'when' is indefinite, the 'where' is most definitely Australian TV."
A Dream of Flight, or at least, lurching forward a few inches
Jessie Marino
 "" The dream of being able to project moving illuminated images on a wall or screen is almost as old, in the history of humanity, as the dream of flight."
– Laurent Mannoni "The Great Art of Light and Shadow."
How about some light, and a little razzle-dazzle?
Back to basics folks – I never caught onto IMAX and VR makes me dizzy.
Just humans animating light in analog, aka, IRL.
The image is not delivered in frames per second –  no lens, no formatting, no live stream-
Rendering takes too much time anyway.
We're trying to dislodge the frame – or at least make it more malleable.
Reflection, refraction- be it saw blade or sequin.
Cinema is slippery, as Mannoni says:
So let's slip, slide, spin, sputter, and smoke."
Welcome
for Percussion Trio and Videos
Johannes Kreidler
Something – some entity, some objects, some unknown counterparts are saying "welcome" to the humans.
Welcome to thinking.
Welcome to music.
They are speaking our language.
They know our habits, they are ours, they are us.
We are awaiting ourselves, and we will come.
Yes, probably we'll come, welcome.
Artists
Composer
Johannes Kreidler (DE)
Composer
Jessie Marino (DE/USA)
Composer
Matthew Shlomowitz (AUS/UK)
Director and Percussionist
Eugene Ughetti
Percussionist
Kaylie Melville
Percussionist
Hamish Upton
Lighting Designer
Bronwyn Pringle
Sound Engineer
Alistair McLean
Film Maker
Laura Spark (UK)
Film Archivist
Leon O'Regan (ExFILM)
Percussionist understudy
Alex Meagher
Supporters
Scream Star would not have been possible without the support of the following people and organisations.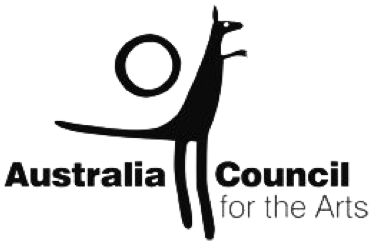 Australia Council for the Arts

Creative Victoria

City of Melbourne