Sonic Eclipse
An immersive sonic event featuring new works by art music luminaries—a mass of mobilised musicians, spatialised sonic choreography and a reframing of the marching band phenomenon.
presented by RISING + Melbourne Recital Centre
"An immersive sonic event featuring new works by luminary art music composers, a mass of mobilised musicians, spatialised sonic choreography and a reframing of the marching band phenomenon"
Speak Percussion presents Sonic Eclipse, an immersive percussive event that interweaves four new Australian compositions into a seamless exhalation of spatialized sound. Featuring 50+ mobilized drummers and wind players and an ensemble of 12 leading percussionists, this performance bleeds across three floors and into the magnificent acoustics of the Elisabeth Murdoch Hall, reimagining the venue's conventional acoustics and redefining the sonic boundaries of its traditional concert hall. Led and performed by Speak Percussion in collaboration with members of Melbourne's music community, this event showcases the music of acclaimed composers – Cathy Milliken, Erkki Veltheim, Damien Ricketson and Thomas Meadowcroft. Sonic Eclipse encourages the audience to listen three dimensionally and multi-sensorially: with their eyes, bodies and ears.
March Static 
Thomas Meadowcroft (Toowoomba/Berlin) 
50 percussionists and wind players
In a work for massed wind players, drummers and percussionists, March Static brings together over 50 performers. This is mobile music, anti-military art music designed to engage fluidly with audience, site and acoustic spaces. Coordinated using FM radio transmission, each musician performs with rhythmic precision whilst navigating choreographic sequences through the external and internal spaces of the Melbourne Recital Centre. Think Brian Eno music for airports but with more flair and sophistication.
TO SING
Cathy Milliken (Brisbane/Berlin)
12 spatialised percussionists
To Sing takes resonance, timbre and spatial distribution of sound as its starting point for a multi-movement work that is both orchestral in scope and conceptual in design. Each tableau presents a unique sonic offering ranging from micro-tonal resonant metal melodic figures through to gestural snare drum canons. 
Is Anybody There?
Damien Ricketson (Sydney)
12 spatialised percussionists and electronics
This through composed work uses an animated video score to coordinate 12 performers and 14 independent electroacoustic tracks. Is Anybody There is a fragile work that delves into spectral harmonic fields constructed by a carefully selected instrumentation featuring almglocken, bell plates, Thai gongs, aluminium tubes and the lowest octave of federation hand bells among other instruments. The work is reminiscent of an other-worldly soundbath rich in harmonic and timbral complexity.
The Sacred Table of Saturn (from The Divine Order of Celestial Numbers)
Erkki Veltheim (Melbourne)
Three spatialised tam-tams and electronics.
Saturn compositionally draws on astronomy, astrology and contemporary physics to explore the harmony of the spheres — the idea that the motions of heavenly bodies create a kind of music, but one we cannot hear as it is an ever-present 'background noise' to our existence. Its soundworld is generally very still and quiet, with musical materials being introduced almost imperceptibly before becoming absorbed into this subliminal sonic horizon. It aims for an experience of hypnosis through sound and a distortion of our sense of time. Also, a forgetting of listening.
Image credit: Aimee Schollum
Artists
Composer
Damien Ricketson
Composer
Thomas Meadowcroft
Assistant Director and Sounds Unheard Coordinator
Kaylie Melville
Lighting Designer
Bronwyn Pringle
Sound Engineer
Jem Savage
Supporters
Sonic Eclipse would not have been possible without the support of the following people and organisations.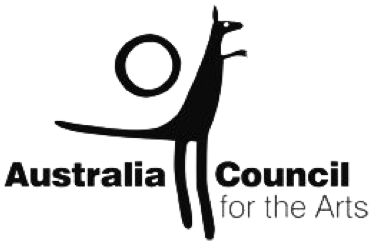 Australia Council for the Arts

Creative Victoria

City of Melbourne
Partners